The Integration Build Accelerator
Our web based application is used by companies implementing ERP systems to accelerate their integration build.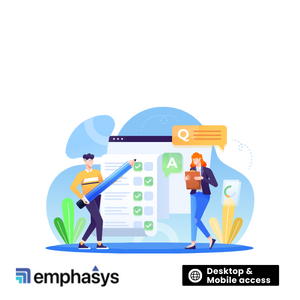 BENEFITS
A Single Source of Truth Across Partners and Platforms
Ensuring integration build efficiency, integration standardisation, data discoverability, and consistency in reporting.
With independent workspaces per partner and aggregated information across the project coupled with real time reporting in interactive dashboards in Power BI as standard.
Ease of Use
A clean user interface which is a pleasure to use.
Powerful Search
Our fast search provides instant access to interfaces and information.
Embedded Data Standards
Easy to use standardised data providing consistent reporting
Secure Workspaces
Secure isolated interface management per partner as a subset of your project interface landscape.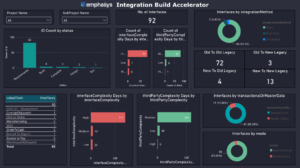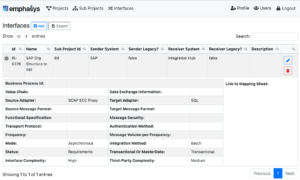 Integration Build Accelerator Strengths
Guaranteed Reliability & Efficiency
External Partner Interface Build Management
Data Management & Security
Search Capability & Reporting
Built by emphasys.com.au
The Hidden Power of the Integration Build Accelerator
Agility
Agile scalable platform providing seamless growth in line with your needs.
01
Innovation Optionality
Unlocking new operational efficiencies and business opportunities by leveraging the latest Cloud technologies. e.g. AI, Analytics, API Data sharing etc.
04
Security
Peace of mind, with secure platform, instant automatic backups and internal security roles, undergoing ISO 27001 certification.
02
AWS Architecture Approved
Our Integration Build Accelerator Solution has been approved by AWS architects adhering to the AWS Well-Architected Framework
05
Lower Costs
Lower build costs through aggregation of interface data types and efficient allocation of work amongst internal and external team members.
03
Advanced Insights
Real time reporting and insights drive focus on important areas, consistently managing integration deliverables.
06
Why Choose emphasys
We are a Leading Integration Service Provider for ERP projects
We are an SAP partner with acknowledged Global Specialisation in "Application Development and Integration" with a Global Competency in the SAP Business Technology Platform.
Bespoke Build Approach
Our Tool gives clarity and insight on how to tackle your interface build - based on your landscape.
Optimisation
Our Tool enables data aggregation and discoverability which reduces redundant build effort.
Real Time Reporting
Our Tool automatically provides real time reporting - giving management instant insight whilst reducing reporting effort.
We are here to help
Support
Telephone support 9am-5pm (AEST) Monday - Friday.
Email support 8am-8pm (AEST) Monday - Friday.
Call Us
(+61) 1300 810 797
Contact Us
Lets setup a Zoom call for a time that suits you.